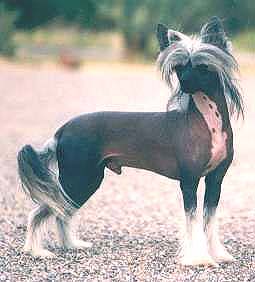 Ch.Blandora Leo of Churrasco

Leo was the start of my love affair with the Chinese Crested. I saw him first on a visit to England to judge Akitas. I was captivated and imported him to this country shortly thereafter. He completed his American championship within 30 days and was placed in the top five for three years in a row. Most recently he won the Veterans Class at the Chinese Crested National Specialty and then went on to win BOS at the same show. And even more recently, he went Best In Show Veteran and the World Show in Mexico City. What a thrill that was:) But best of all he was awarded the American Chinese Crested Club's Sire of Distinction award. He is only the fifth Chinese Crested sire to have been so honored. He continues to sire beautiful puppies here at Tamarlane and is the sire of over 40 champions.
No one can have just one Crested, so after Leo we imported several more including the Best of Breed winner at Crufts. Crufts is like our Westminster, but much larger with more than 25,000 dogs entered. These have become the nucleus of our small but very successful breeding program.
We breed a very limited number of litters and do not always have puppies available. But if you are interested in a charming little dog with lots of personality to love and perhaps to show, please contact us.
To see more of our Cresteds please visit our Picture Gallery
to contact us click here: Contac Us